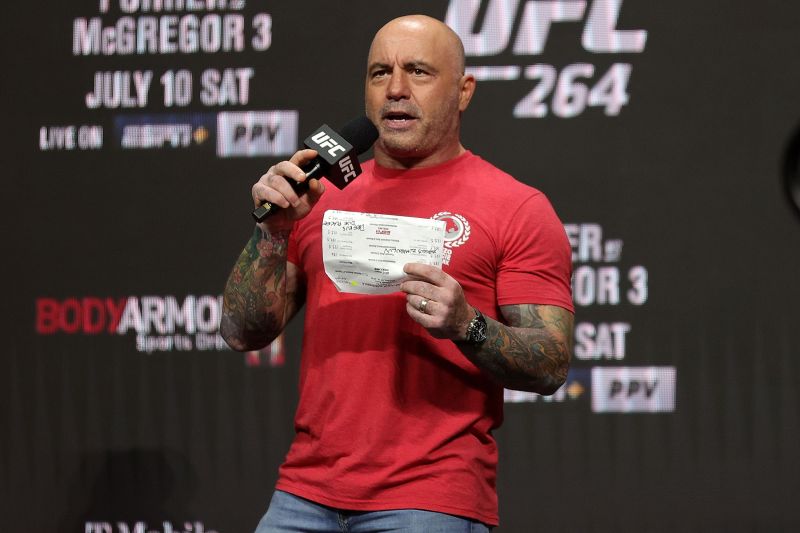 Joe Rogan names best leg kicker in MMA
Justin Gaethje is the best leg kicker in MMA right now, according to UFC commentator Joe Rogan. Gaethje's leg-kicking prowess is no secret to fans around the world. 'The Highlight' has been seen using them with devastating effect in most of his fights.
When previewing the main event of UFC 264 in a previous podcast, Joe Rogan named Gaethje as the UFC's best leg kicker. He pointed out how Gaethje "destroyed" Michael Johnson's legs with calf kicks when they fought.
"Justin is the best at it. Justin Gaethje, in my mind, is one of the best leg kickers who has ever fought in the sport. He destroys people's legs. Michael Johnson's legs, he destroyed the Khabib's leg. Khabib had all kinds of issues in this fight. It's just the fucking champion strength of Khabib, that spirit, he just loves going through it. The fact that he fought this fight with a broken toe too . He's an amazing monster of a man but Justin Gaethje, he cuts off everyone's legs. Everyone. He's so good at being tight in the clinch that he can get away with it, then cut off the legs of a clinch so that it ties you up, it's like a hook and it will kick you, "said Joe Rogan.
---
Like Joe Rogan, Khabib Nurmagomedov recognized Justin Gaethje as the toughest hitter in the lightweight division
Speaking on Hotboxin 'with Mike Tyson, Khabib Nurmagomedov said Justin Gaethje is the most impactful opponent he has ever faced. Recognizing Gaethje's ability to cause severe damage to his opponents during combat, "The Eagle" claimed he hit "like a truck".
"This guy [Justin Gaethje] hit like a truck, you know. No one hit me harder than Justin Gaethje. His kick, his punch, his left hook, his right hook, his right uppercut, "Khabib Nurmagomedov said.
The two fought at UFC 254. Rogan mentioned that despite kicking Gaethje's legs injuring Khabib Nurmagomedov in their UFC Fight Island championship fight, the undefeated Russian endured the pain to keep going and win the competition.
Read also
Justin Gaethje is set to face Michael Chandler in the main co-event of UFC 268 on November 6.
---
Khabib Nurmagomedov: "Send me your position! "
Us: Here!